Manchester City have done precisely what they set out to do: beat Watford and give Liverpool 24 hours to consider a four-point deficit ahead of their Merseyside derby against Everton on Sunday.
If the fight between two supreme teams is the main story of the title race, the subplot of this game featured a first Premier League hat-trick from Gabriel Jesus. The 25-year-old then added a fourth which will pique the interest of potential suitors given he has a year left on his terms and is said to be keen to leave the Etihad.
These questions are for the closing season. The present is all about how City ticked off another game in their inclination to defend the Championship for a second time under Pep Guardiola: they now have five to go, so stay firmly in pole position to do so.
Their win over Brighton in midweek may have been edgy until Riyad Mahrez broke the deadlock early in the second half, but it was a completely different story against Watford as the irrepressible Jesus didn't only needed four minutes to fix them. João Cancelo swept away a cross that hit fellow fullback Oleksandr Zincehenko on the left. The Ukrainian sent the ball back into the box and Jesus pulled out a leg to deflect Ben Foster. The early strike prompted a question: could Watford's last visit in September 2019, when they were beaten 8-0 here, find an unwanted echo?
The city wanted more. Kevin De Bruyne swung in a pair of corners that had
those in green in disarray but in an upside down phase the champions then had to be put under pressure. Cancelo over-dribbled near halfway and gave away the ball and allowed Emmanuel Dennis to run towards Ederson before Zinchenko made a second tell-all intervention, executing a sliding tackle that expertly won the ball back:s had it not been perfectly judged, a penalty might have been the tariff.
Cancelo's next act was to try a Cruyff turn and get robbed again – once
much to the noticeable chagrin of his manager. Guardiola's mood was bound to improve, however. De Bruyne's late-season form had the midfield almost unparalleled at his best. The final illustration was a plunging parable that begged Jesus to return home, which he did with aplomb.
The city could have cracked down from that moment, but fell asleep. Hassane Kamara kicked off a move he would finish, taking a through ball from Dennis, a hole punched in the home defense after Rúben Dias was trailed down the left. When Kamara struck, Guardiola did the same with the turf in the technical area: hitting the grass with a fist.
The city was in tatters, but then emotions came to a head for those in a sky-blue persuasion. Kevin Friend deserves credit for not huffing when De Bruyne went down injured as it allowed Jesus to find Rodri – close to where the Belgian was – and after a nice chest down the Spaniard fired a sweet volley.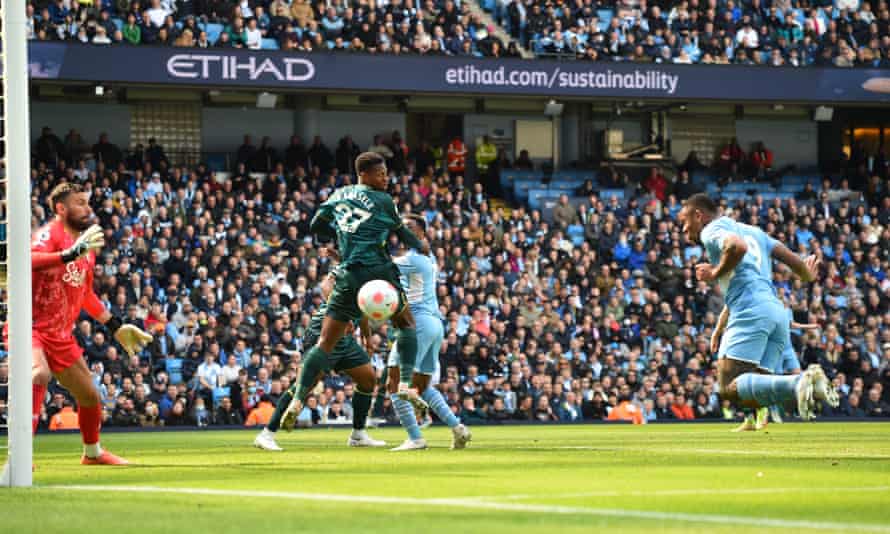 If Guardiola gave a half-time pep talk, it worked instantly when the contest's star trick claimed and scored a penalty four minutes after the break. Jesus ran into the area, Kamara failed to follow him and a Foster boot took down the Brazilian. He stepped up to secure a first hat-trick in the competition, having achieved the feat against Shakhtar Donetsk and Dinamo Zagreb in the Champions League.
Moments later he became a quadruple via a classic, fluid move from City: Sterling twisted in a central area and found Jack Grealish who fed Jesus who in turn sent De Bruyne down the front right. to smash back.
Manchester City host Real Madrid in the Champions League on Tuesday, before focusing on the title again when they travel to Leeds. Liverpool don't dare drop any points when they take on their Merseyside rivals on Sunday: City are focused and able to do even better than the way to this great win.