Here's what things look like at the bottom of the table now:
Our man at Selhurst reports:
The Leeds players look a bit disappointed as they leave but Marsch goes around, telling his players "good job".
Full-time: Crystal Palace 0-0 Leeds
Peep! PEEP!! PEEEEEEEEE!!! Everywhere. A peculiar game – strangely convincing in a kind of thumping and annoying noise. Leeds will be rather relieved that Palace couldn't make their dominance count.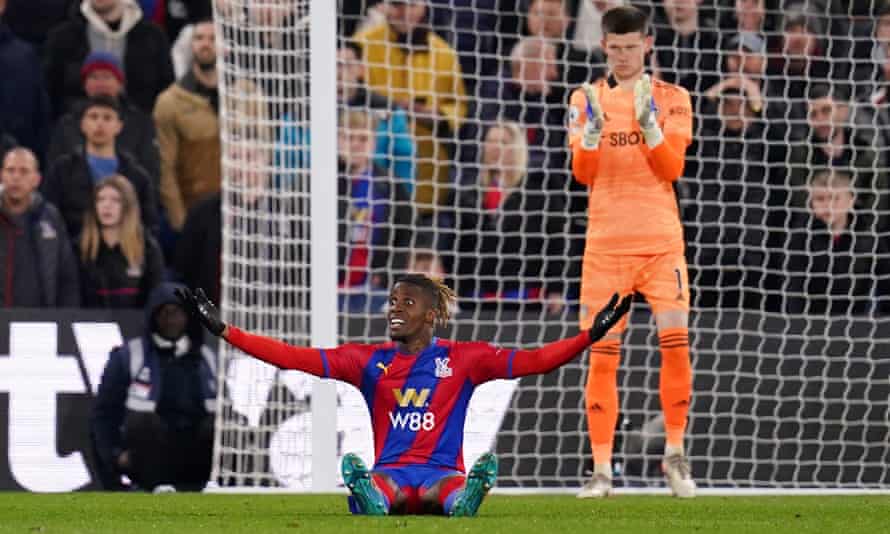 90+2 mins: … Gallager tumbles, Zaha sees his shot saved, Leeds survive. Only.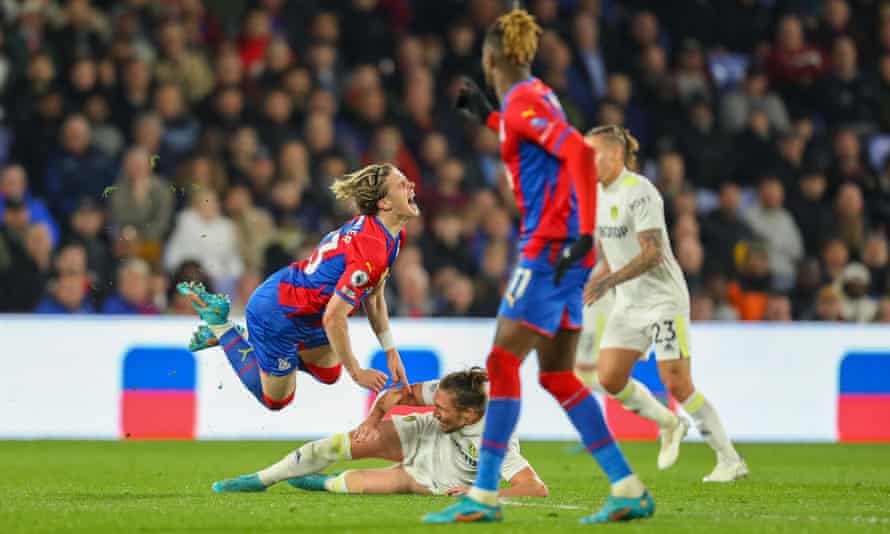 90+1 mins: Zaha cuts inside and fires a shot just over the bar via a deflection. Palace corner…
90 minutes: Three more minutes of added time to play.
88 minutes: Llorente does well to stop a galloping Gallagher as he charges into the box. Leeds are hanging on a bit here.
87 minutes: Gallagher hits Meslier directly from the edge of the box.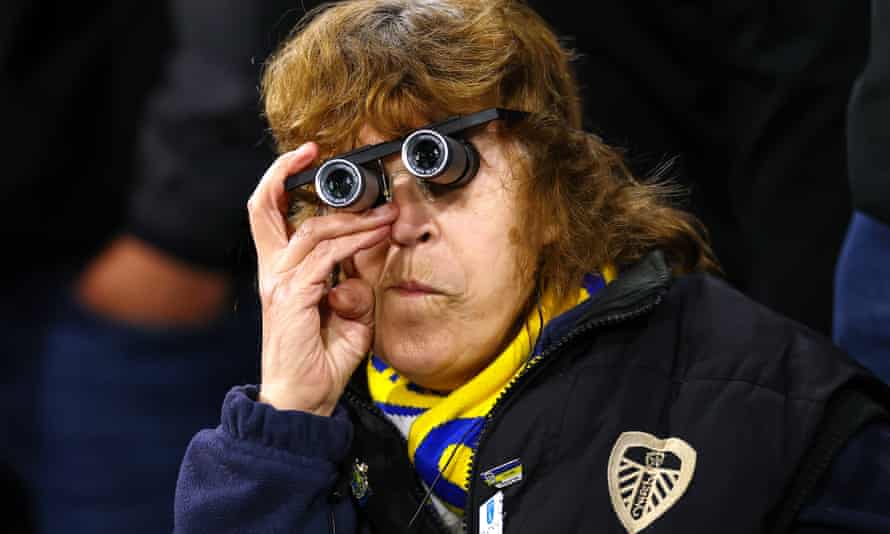 85 minutes: It all fell a bit flat, which probably suits Leeds – a point really isn't a bad result for them here.
83 mins: Benteke replaces Mateta for Palace.
81 mins: Meslier saves! And even! Zaha hammers two low kicks to the near post and the Leeds keeper saves twice with his foot.
79 mins: Palace sub: Eze is replaced by Schlupp.
78 minutes: … Eze throws it, the ball falls to Gallagher, who flies just over the edge of the box.
77 minutes: Llorente goes into the book for taking out Zaha. Dangerous free kick for Palace…
76 mins: …worked short and up to Ward, who looped his effort from wide range.
75 minutes: Koch, who has had a poor game since coming on at the break, loses to Gallagher halfway through and the Palace midfielder wins his side from a corner…
73 mins: Gallagher is a bit lucky to win a free-kick as Philips shuts him down halfway. Leeds, meanwhile, make their third change: Rodrigo off, Gelhardt on.
71 mins: With Eze, Gallagher, Zaha and now Olise on the pitch, Palace are playing some great approach stuff. It's just that final bullet that's missing.
69 mins: Gallagher drops into the box under a challenge from Llorente, who goes to ground early. The referee points… for a corner. And VAR agrees.
68 mins: Zaha hits a shot on goal from the angle after Olise made an immediate impact. Palace back in the ascendant.
67 mins: Palace changes: Olise for Ayew.
66 mins: Best end product from Zaha this time as he pulls away from Ayling – his low cross finds Mateta but the striker spanks his effort high and wide.
64 mins: Zaha frolics to the left the cuts inside…but poor control lets him down.
61 mins: Harrison's strike from range echoes off Greenwood. Leeds were the better side for the last five minutes or so.
60 minutes: Gallagher goes down a bit theatrically as Ayling dives. Replays show the defender did well to put away his loose control.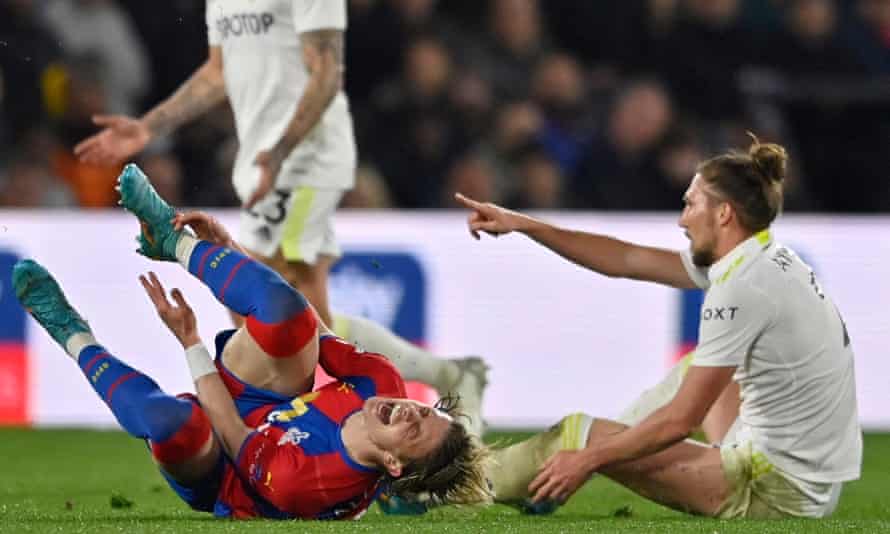 59 mins: Leeds make their second substitution: Sam Greenwood replaces Dan James.
58 mins: It was Palace's turn to concede the ball cheaply in their own half. Dallas trails away from the effort.
57 mins: Zaha doesn't quite find Gallagher with his pass through the box after Cooper gives the ball away cheaply. Leeds seem determined to give Palace a helping hand, but the home side are struggling to capitalize on it when the time is right.
55 mins: Koch concedes possession halfway through but Palace, thanks to slightly leaden work from Mateta and Eze, cannot take advantage.
54 mins: Eze scuffs the resulting corner at the near post and as Leeds chop to clear the thing, Zaha moves a bit of space then launches his shot somewhere towards South Norwood station.
53 mins: Superb tackle from Ayling as Eze slides Zaha on goal.
50 mins: Ward also enters the book for taking on the Leeds man. The replays suggest James is a bit lucky, I think – it really wasn't a smart challenge at all.
49 mins: Oh, cross that out. Dan James just pounded Joel Ward and it brings everyone's dander up. James enters the book.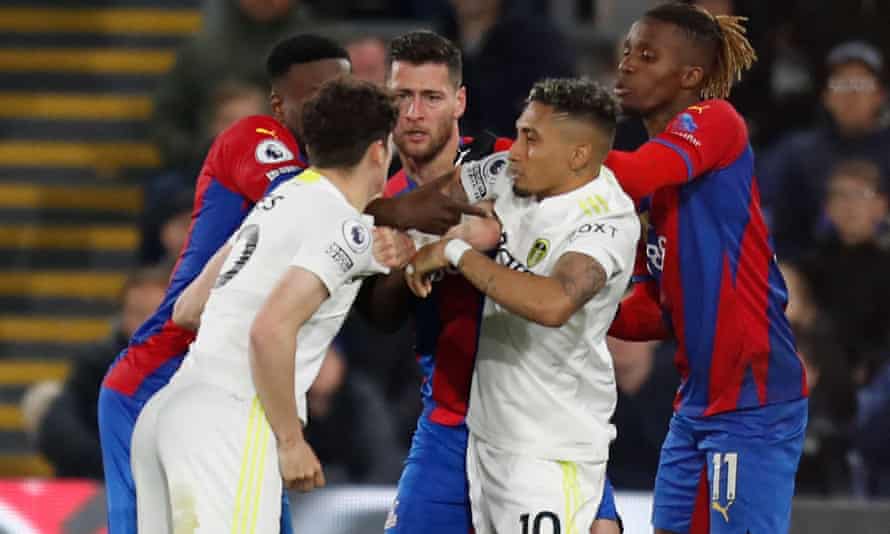 48 mins: Everyone seems to have calmed down after that pre-interval tension, which is good/bad.
47 mins: … It's no use.
46 mins: Raphinha has a half chance of nowhere but Ward sticks to his task. Corner in Leeds though…
Peep! Here we go again. Leeds made a half-time substitution: Robin Koch replaces Klich.
Half-time: Crystal Palace 0-0 Leeds
Peep! PEEEP!! And with the increase in darkness, the arbitrator puts an end to the proceedings. Tons of intensity, good high tempo…but not so much in terms of goalmouth action.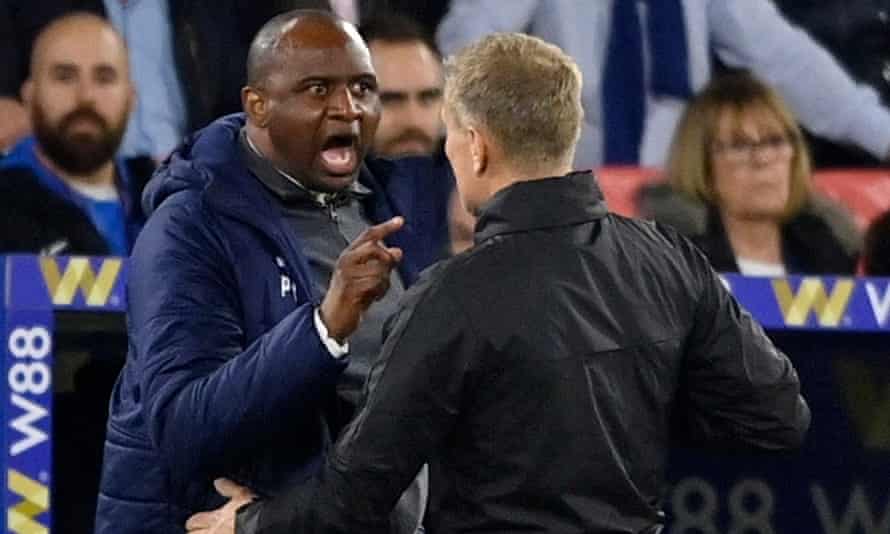 45 mins: Andersen rightly enters the book for a tall order on Rodrigo.
44 mins: Raphinha is penalized as he canned his leg up to neck height as Ward clears. This elicits more grunts from those in red and blue. The looming half-time is a bit of a shame because everything is getting a bit spicy.
42 mins: Patrick Vieira is particularly impressed.
41 minutes: Zaha reaches out for Raphinha to hold on to the ball – the Leeds man's scream can be heard – and Palace rage as the officials award the visitors a free kick.